JetWing Trikes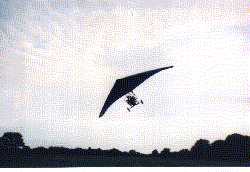 Update 1/2012 - This website hasn't been updated in over 10 years. So consider the below historical and not available (for now). Check out this website for some JetWing info: Want To Fly A Trike?
---
Starfire Systems has just purchased the remaining inventory of, design of, and tooling for the JetWing ultralight trike air vehicle. This is a true FAA part 103 legal trike. Spare parts for the 2000+ existing JetWing Trikes will continue to be available through us. Newly assembled trikes and wings are also available.
JetWing Trikes have been manufactured in the USA longer than any other domestic trike on the market. They were designed in the late 1970's by engineers at Flight Designs Inc., a division of Pioneer International Corporation. Since that time there have been over 2,000 units produced. It is a design that is time tested and well proven.
Inventory clearance specials:
JetWing Trike Chariot $1500 (less engine, reduction, and prop)
Demon 175 2/3 double surface wing (in-stock colors only) $2200 INCLUDING PVC storage tube!
Engine, reduction, and prop available at $2000